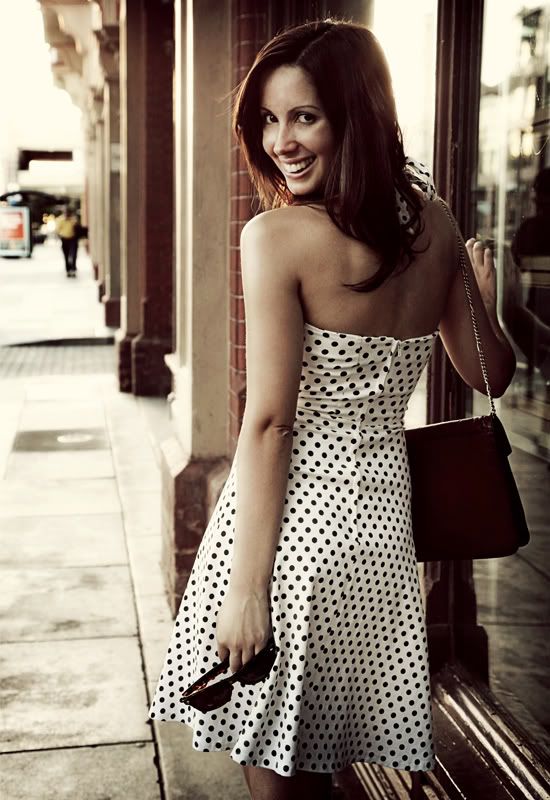 A couple of weeks ago, I was lucky enough to have the opportunity of catching up with local photographer, Nicole of
Nichol Brooklyn Studio
.
We spent a warm afternoon soaking up the East End, laughing and snapping away. Nicole was an absolute delight to work with, and as you can imagine I'm ecstatic with the end result. We also took a few more photos which I will share with you once they are ready.
In the meantime, you can check out more of Nicole's great work online on her
facebook
,
blog
, and
official website
.
I'm wearing:
Vintage polka dot dress
Vintage handbag
Last week, I was also tagged by the gorgeous
Zanita
in the NW magazine Mr Paparazzi tag – here are my answers.
What is the most worn item of clothing in your wardrobe?
Vintage white cotton sundress.
It's Oscar night and you can be dressed by any designer, who would you choose?
Oscar de la Renta of course – classic and elegant.
What trend are you tired of?
Nothing springs to mind, everything in moderation, but I absolutely can't wait to see a return to 40's/50's inspired fashion, full skirts and pretty prints.
If you could give any celebrity a makeover, who would it be?
Britney Spears.
Who is your celebrity style icon and why?
Has to be Miranda Kerr or Rachel Bilson – both so effortlessly chic.
I tag the following fashionistas
Stompface
Love More
Zebra and Meerkat
X
P.S. This is officially my last week in Australia, before hitting LA - exciting and busy times ahead!
XX