If you've been following my skin journey via instagram story, you will have noticed that I've been spending a lot of time lately at HÜD Skin + Body.

It is with great excitement that I share with you the results of my recent Dermamelan pigmentation / Melasma chemical peel.
Anyone that has Melasma or stubborn pigmentation will understand how much it can effect your confidence, so for the last year or so, I've been on the hunt for a treatment that can assist with it's reduction.
To be honest, after testing out almost every different peel, laser, facial and cream out there, I still wasn't really able to target my problem areas (shadowing on my upper lip, and patchiness on my forehead and nose). I was often told that there is nothing you can do about Melasma, apart from stay out of the sun, so as to not make it worse. I continued researching options, which is when I stumbled across THIS post on instagram.
It was positioned as a treatment to specifically address Melasma…I needed to find out more.
I reached out to HÜD Skin + Body for a consultation to find out what Dermamelan was all about. I instantly connected with HÜD's beautiful owner Gry, who herself had struggled with Melasma, as she went above and beyond to detail ALL of the pros and cons of this treatment for me. Immediately I was impressed by Gry's extensive knowledge of skin holistically, as well as her approach to not only 'treating' the skin, but also 'rebuilding' it. Immediately she recommended I start taking 'EFA's' (essential fatty acid supplements), to kick start my skin's recovery ability from the inside out.
My biggest hurdle, when it comes to any treatment, has to be 'down-time' and this promised to be around 7-10 days. I don't think I've ever had the opportunity of laying low for that long, but I just decided to bite the bullet, book in for the treatment and deal with the consequences. Here is my day by day Dermamelan treatment journey.
DAY 1.
Treatment day! I visited around lunch time (on a Friday so I could lay low over the weekend), to get the 'mask' applied to my face. This process took little to no time and would remain on my face, untouched for at least the next 8 hours, and be washed off before bed.
Note - I did have to drive home with a green face, I did receive quite a few double takes. There was absolutely no pain associated with this, just the nuisance of having a mask on your face all day.
DAY 2.
After removing the mask the night before, I woke to a VERY red face! Think extreme sunburn, minus any pain or discomfort. In fact, my skin at this point felt incredibly smooth. I had to go out, so I was able to apply a mineral makeup which helped disguise the redness.
DAY 3 + 4.
The peeling starts! You know that kind of peeling following a bad sun-burn - well this process starts all over my face. No pain at all - which is amazing! Just dry, tight skin. The peeling progresses each day, so at this point, it would be a bit tricky to go into work or really face people generally.
DAY 5.
The peeling has increased a lot (think a snake shedding lot), and I'm moisturising continuously. I had a work event in two days and started to panic that the peeling was going to be unmanageable, so I return to HÜD for an 'Enzyme Treatment'. These are amazing and essentially work to help strengthen your body's healing capability (you can see more about the treatment here). This definitely helped lift a lot of the peeling, and I was in good spirits.
DAY 6.
The peeling which I thought we had gotten rid of, had returned! At this stage I'd basically been in daily contact with Gry, who continued to assure me that the more peeling the better! This is ultimately what was going to give us the results. At this stage the peeling is predominately around my lips and chin and really quite unsightly.
DAY 7.
Event day! I wake up and the peeling is still there but isn't too out of control. Come lunch time, I'm feeling good, I have my makeup done for the event, and realise…Makeup can't help me with this one. In fact the peeling looks even worse than ever! Where the peeling isn't too bad (forehead & cheeks), makeup works a treat, however, around the lower half of my face it really only highlights the issue.

A positive is that the peeling really isn't noticeable in photos (which for my line of work is very helpful)!
DAY 8.
I'm well and truly over peeling! My confidence has taken a huge hit, I'm sick and tired of explaining to everyone, that my flaking face is indeed something I'm aware of!
DAY 9.
Event day, take 2. I'm off to the Polo and, you guessed it - still peeling! By this stage it's really limited to my chin and lip area, makeup helps to a degree (more so than day 7), but it is still noticeable. Still no pain or discomfort, I'm just moisturising as much as I can and staying sun-smart (which is crucial while the peeling reveals new, venerable skin).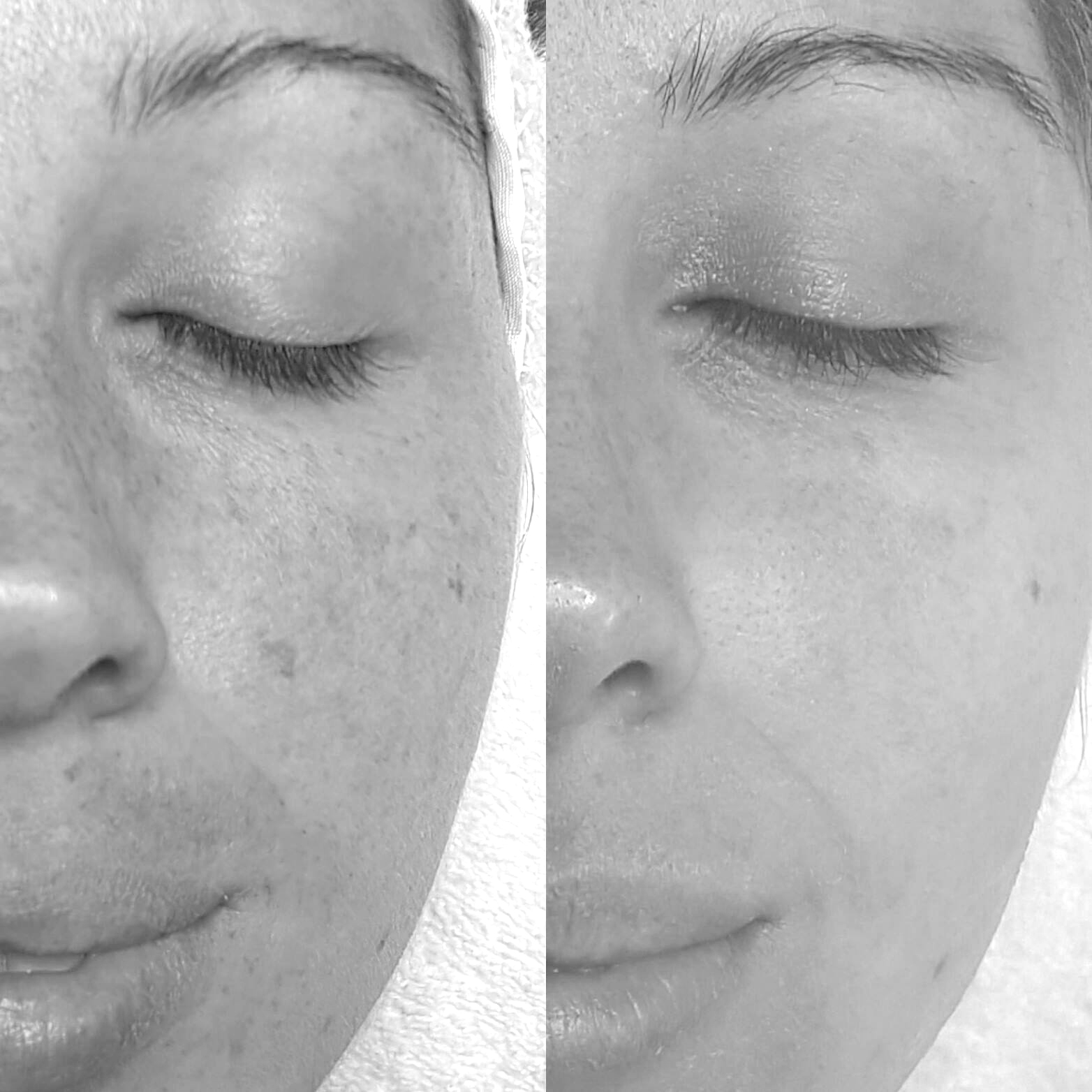 NEXT STEPS.
So today (day 11) for the first time there has been NO peeling and I'm absolutely astonished with the results. Overall my skin looks brighter and clearer and the heavy pigment, particularly on my upper lip and around my nose has dramatically reduced. I've also notice that some fine lines and texture of my skin has improved. Makeup goes on easier and stubborn spots have lifted.
I will continue with HÜD's Enzyme Treatments to further strengthen my skin, and now have a greater appreciation of just how careful you have to be with your skin - particularly when it comes to the sun. I now have a skincare regime to follow to maintain these results also.
IN SUMMARY
Would I recommend the treatment…Absolutely! I was thrilled with my results - naturally everyone's skin is different and will react differently, but as for my experience, I couldn't be happier. Also, depending on your skin concern, there may be an even better suited treatment for you. There are times during the process when my skin wouldn't stop peeling and I my confidence was at an all time low, that I questioned if I should even be doing such a treatment, but now that I can see the side by side before and after - there is no doubt I made the right decision!
The thing I love most about Gry and the entire HÜD team is that they tailor a program based on you, your skin and lifestyle. Another really important point of difference for me is that throughout the entire process Gry would contact me (via phone & message) to see how my skin was progressing and how I was feeling. If I had any concerns she was able to instantly set my mind at ease. For me this was the additional reassurance that I needed, having not experienced this extreme of a skin care procedure before.
If you are looking for an incredible team to look after your skin, I can't recommend HÜD more highly.
For more information about HÜD, you can visit their website - www.hud.com.au or Instagram @hudskinandbody.